IN MY EYES
"In My Eyes"
 Chat SEGMENT
will be Personal, Testimonial, Inspirational, Motivational, Educational, and THE TRUTH!!!!!
These Segments may make you: Emotional, Angry, or even Confused.
For years we have been Hush Hush because Sex and Becoming a Young Parent Conversations are Taboo. 
Whewwwww Chilllleeee this Segment, will be the beginning of Breaking Generational Curses and Unhealthy Family Cycles. 
Ms. P The Inspirational GuRu will be interviewing individuals who became Parents between the ages of 13-23. Some as early as 12 years of age. 
They will be sharing their Personal Experiences on; being Young and Forced into Parent Hood. 
Please Stay Tuned for Something New and Definitely needed in our Homes Today. 
TUNE IN......Every Tuesday at 7pm
Daniel Davis "You Are" Intro Song.....FOLLOW HERE➡️➡️➡️➡️➡️➡️
Hit the SUBSCRIBE BUTTON & LIKE ...............
Jackie 15 & Pregnant 
Jackie will be discussing her experiences of being 15 & pregnant in the 60s. 
Young & Parenting but I Still Have a Dream
Young & Parenting But "I Still Have A Dream" 
is a Facebook Live Platform created from Ambitiously Him Her- King Foundation (In My Eye's). 
Mrs. Latonya Patterson Founder/Director will be discussing with Young Parents the hardships of being a Young Parent in 2021. 
We will discuss things like: 
•Why are so many Youth, choosing to be Parents so Young? 
•Support, Do we have it? Why or Why Not?
•Fatherless & Motherless Kids
•Do an Absent Parent dictate your Parenting Skills?
•Protection, Why or Why not it's being used. 
•STDs/STIs
•Dating & a Parent
•Abuse(Physically, Emotional, Mental, Verbal) 
•Toxic Family Behaviors 
•Generational Curses and More 
Let's hear what our Youth have to say, maybe they are the answers to how we can become Change & make a DIFFERENCE. 
Our first Segment we will have our former Ambassador Shaquala Jackson Quala Jackson . 
She will be discussing her experience with: 
Dating and Being a Parent Fatherless and motherless Kids 
& Domestic Violence and exposing your kids & More. 
STAY TUNED TO: YOUNG & PARENTING " BUT I STILL HAVE A DREAM" this Thursday 9/2/21 at 7pm CST.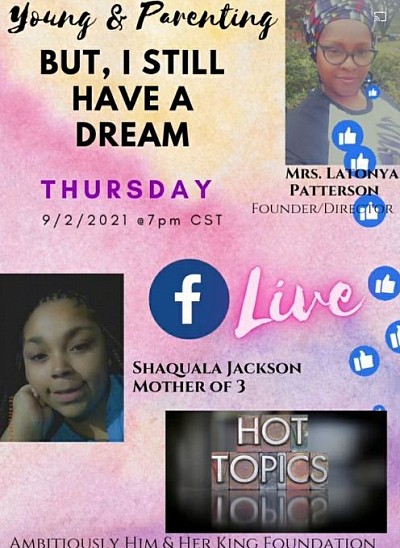 Thursday September 2, 2021