Board Members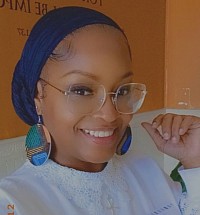 Founding Director
Latonya Patterson 
Latonya Patterson Founder of Ambitiously Him Her King Foundation resides in Mobile, Alabama where she was born and raised. As a devoted mother of 5 and grandmother of 3. She was inspired to create Ambitiously Him & Her King Foundation through her own life experiences as a young mother(becoming pregnant at 19), as well as seeing her son's hardships of being a teenage father at age 16. Her son Jabriel "Quese" Calhoun was the true inspiration behind the Foundation and its Mission. She dedicates her life to helping female youth, teens, and young adults Parents(Mothers, Fathers and Pregnant Youth).
Her Purpose is to Inspire, Encourage, Motivate & be a positive impact on people's lives. 
Latonya's career is her passion; she's an Inspirational Expressionist, Holistic Herbalist, Spiritual Coach, Indigenous African Spirituality Practitioner/Healer, Alabama Certified Peer Specialist,  Author/Writer, Domestic Violence Advocate, and Mobile Community Health Leadership Award Honoree. She's honored to help and support The Youth, Teen, and Young Adult Parents in your Community as well as hers.
Director
Shundretta Patterson 
Shundretta Patterson is the President, who resides in Mobile, Al where she was born and raised. She is currently a devoted mother of 5 and wife. She takes pride in assisting the youth and young adults in her community by bringing awareness.
She has a BA in Psychology, a Clothing Designer/Seamstress that loves cultural fashion and she enjoys poetry & dancing.
She has vowed to be The Change she's looking for in the Community.
Khaleea Powell
Khaleea Powell is a dynamic serial entrepreneur based in Mobile, Alabama, who has made a significant impact in the media and client services industry. Her work has touched the lives of many communities, including New Orleans, Mobile,Atlanta, and Birmingham, where she has dedicated herself to serving youth and young adults.
Khaleea's passion for writing has led her to become a published journalist, sharing her insights and experiences with readers around the world. As a keynote speaker, she has also inspired audiences with her motivational talks, encouraging people to pursue their dreams and reach their full potential.
In addition to her entrepreneurial ventures, Khaleea is also an advocate for wellness, promoting healthy lifestyles, and self-care practices to help individuals lead happier, more fulfilling lives. Her commitment to this cause has led her to become an administrator of the Ambitiously Him & Her King Foundation, an organization that helps young parents develop the skills and confidence they need to succeed in life.
Despite her many accomplishments, Khaleea remains grounded and dedicated to her community. She continues to use her platform to inspire and empower others, and her hard work and dedication have earned her the respect and admiration of people from all walks of life.
Khaleea is honored to volunteer her time to be the office administrator voluntarily of Ambitiously Him & Her King Foundation. 

Board Member
Dr. Katrina Trammell
Dr. Katrina Trammell practices at the University of South Alabama Midtown Pediatrics. Known affectionately by her patients as "Dr. T," Dr. Trammell has been a pediatrician for 22 years and teaches and supervises medical students, nurse practitioner students and physician assistant students as an assistant professor of pediatrics at the University of South Alabama College of Medicine. Dr. Trammell also attended medical school and completed her residency at the USA College of Medicine.
Prior to becoming a Board Member of Ambitiously Him & Her King Foundation, Dr. Trammell has served on a variety of Nonprofit Boards due to her dedication and commitment to her community. 
Dr. Trammell is a member of numerous professional societies including Mobile Pediatric Society, Alabama Chapter of American Academy of Pediatrics, and the Mobile Metropolitan Medical Society. Her community involvement includes serving on the board of the Gulf Regional Early Childhood Services, as an Alabama member of the Asthma Coalition, as a community research fellow with the Gulf States Health Policy Center and as a contributor to the Edith Mitchell Health Initiative. Dr. Trammell's passion for pediatrics was recognized in 2011 when she was named one of the most influential African American doctors in the Mobile-Pensacola area by Black Health Magazine.
Board Member/Mentor
Alvin Jarreau Jr. 
Alvin Joseph Jarreau Jr. is the son of Anitra Jarreau and Alvin Jarreau Sr.
Mr. Jarreau is a 2020 graduate of Mattie T. Blount High School.  Alvin is currently an Influencer and Brand Entrepreneur for "The Jarreau Effect". Alvin is a public speaker, model, and menswear stylist! Alvin is also a radio personality for NSpire U On Air The New Beat Of The Bay!
Alvin has a presentation workshop called "Attraction Builds Wealth" geared to help young men improve their confidence, speech, and style. 
Alvin's goal is to inspire & encourage Young Men and Young Fathers from all walks of life that positivity is an intelligent decision and the direction toward true freedom. 

"You can't separate peace from freedom, because no one can be at peace unless he has his freedom." Malcolm X

Board Member
Connie Guggenbiller
Connie Guggenbiller is a resident of Mobile, Alabama. We can say Ms. Connie knows how it is being a Young Parent. At 16 She was a Mother & Married. Yet experiencing Young Parenthood didn't distract her from finishing school and later becoming a registered nurse. 
Having a deep connection with God & a strong sense of Faith Connie has always been very active with people & her community. Connie is currently The Director of the Food Pantry at Central located at Central Presbyterian Church; located at the corner of Dauphin and Ann Street in Mobile, Alabama. The Pantry has partnered with the organization for over two years, helping Young Parents in need with Food. Ms. Connie wasn't just a partner she became Family. Ambitiously Him & Her King Foundation adore LOVE ALL PANTRY at Central.
The Food pantry is one of the largest food pantries on the Gulf coast. They help at least 200-500  per week. 
As a Board Member Connie have vowed to dedicate herself to Young Parents in need. 
Board Member
Attorney Moshae Donald
Attorney Moshae Elise Donald Moshae Donald is the owner of the Law Office of Moshae Donald, LLC.   A graduate of Alabama A&M University and Vanderbilt Law School, Moshae has devoted her legal career to serving others.  Her experience includes representation of MCPSS teachers, municipal government and federal government entities and agencies, criminal defendants, families and children.  Moshae has served as both a prosecutor and a public defender.  Community activism and engagement has also been an impactful component of her career as Moshae has been honored as a Boys and Girls Club Distinguished Alumni, Mobile's Top 40 Under 40, and past President-Elect of Mobile United.  She sits on various boards throughout Mobile County adjacent to transformative change, diversity, and inclusion. In 2022, Moshae Donald was the first black woman to run for Mobile County District Attorney.  In her private time, she enjoys cooking, traveling, and enjoying time with her beautiful family. 

Board Member
Angie Smith
Licensed Master Level Social Worker and community organizer Angie Smith has been a resident of Mobile, Alabama for 23 years.
She's the proud parent of two children, Sebastian who is 12, and Anneliese who is 7.

Mrs. Smith began her love of community by volunteering with Lifelines Rape Crisis off and on for 10 years. It was during this time that Mrs. Smith realized her calling to work within the community to help others. In 2016, she received her Bachelor of Social Work from the University of South Alabama and began her social work career with the Mobile County Health Department. While at the Mobile County Health Department, she was a social worker with the Mt. Vernon and Citronelle communities, where she worked with many organizations to create healthy outcomes for marginalized communities. During her time at the health department, she was a founding member of the Newborn Hearing Learning Committee, partnering with other organizations such as AIDB, USA Speech, and Hearing, Helping Hands, and Children's Rehabilitation Services to ensure that families experiencing hearing loss had access to resources, as well as educated the pediatric community regarding the importance of testing for hearing loss. While serving in those communities, Mrs. Smith had a variety of community round table events regarding safe dating practices, healthy outcomes, and the importance of healthy communities. 


In 2019, a year after the loss of her husband, Mrs. Smith decided to return to college and fulfill her dream of receiving her master's. Mrs. Smith graduated in 2020 with her Master of Social Work from the University of Alabama with honors from the Omega Nu Lambda National Honor Society. In 2021, Mrs. Smith wanted to expand her career by working in the community and began working at USA Children's and Women's Hospital in the NICU and Pediatric Emergency department. During this time, Mrs. Smith served families from the community during the most critical times of their lives. During her time here, Mrs. Smith recognized a need for people to receive access to resources to prevent them from being in crisis mode. Mrs. Smith began partnering with community organizations such as Ambitiously Him-Her Foundation to ensure new mothers had the most needed support for healthy beginnings with their children. 
After leaving Children's and Women's, Mrs. Smith began her community organization, We the Change Mobile, to help people navigate resources within the Mobile County area. During her time within the healthcare system, Mrs. Smith recognized a need for a prevention model of a community organization that allowed people to receive help and mitigate circumstances that would lead to crises within the family systems. Mrs. Smith recognized within the community the need for people to have access to resources and assistance with navigating those resources. We the Change Mobile have partnered up with many organizations such as the Alabama Inclusivity Project, many homeless organizations, The University of South Alabama's School of Social Work Student Organization, and individuals with the desire to improve our community. 
Mrs. Smith is committed to helping young mothers have access to resources, and providing assistance to young mothers and families in need before the crisis. Angie is also on the board of directors for the NASW Alabama chapter. 
Joining Ambitiously Him & Her King Foundation, She has vowed to push towards her goals effectively by helping young parents in the community. 
Secretary
Andrea Hudson 
Andrea Hudson is the definition of Village Headman or Chief. Andrea Hudson is the mother of one son & grandmother of a granddaughter. Andrea Hudson had her son at the age of 16. Early Parenthood didn't hold her back from striving for the best, she graduated from Mattie T Blount in 1989. Andrea got married at 21 years of age and immediately went to Germany with her Spouse who was in the Air Force. When they moved to Texas she received her BAS in Psychology at Abilene Christian University. When Andrea moved back to Mobile, she knew she wanted to work with The Youth and was passionate about serving her community. Andrea served as a Caseworker through the Department of Human Resources for seven years in the mid-2000s. Andrea also has a Masters of Education in Elementary Education Grand Canyon 2010. Andrea used her knowledge working with Youth & Educational background as a Director of Summer Programs and After School Program through Trinity Lutheran (MCPSS Title I coordinator Trinity Lutheran). She also served some time as a Research Assistant  & ran community Health Research Projects.

Andrea has also ran a million-dollar housing grant and was a caseworker and office manager at Bay Area Women Coalition as well. Serving her community throughout the years has been a mission of hers.
Currently, she serves as Youth Advisor, Mission group Secretary,  Evangelism Ministry(Chair Health Committee). Andrea is currently a Travel Notary Signing Agent and own her Tax Business for over 30 years. 


Cameroon Yaounde
Ndi Faith, a student and young parent from Cameroon in Africa. 
A 22 year old mother of a 2 year old daughter. 
She had her daughter in 2018, even though her child's father accepted that she would keep the pregnancy; he didn't really assist her in preparing for the babies arrival. Ndi Faith parent's on the other hand were not ready, to add another responsibility on themselves. So she had difficulties taking care of the baby, especially as a student. 
One day while browsing on Facebook she saw a post from Ambitiously Him Her King Foundation, which caught her attention. She saw how the organization was giving out baby food and clothes to some young parents and she decided to message, for more details but was to ashamed, so she stalled in the messaging process. 
She visited the page everyday to see how they were helping parents until one day, a question was asked; "If there's any parents who needed help"? She, messaged but stated, she was in Cameroon. 
This is how Ndi Faith began communicating with the founder of the Organization. 
Latonya Patterson tried to get items sent to Ndi Faith but it was very costly sending from the States to Cameroon. After 2 years of feeling hopeless with no help, She messaged the founder again. The organization finally succeeded in assisting her with pay for her daughters daycare.
This is the moment Ndi Faith, agreed to help Young Parents in her country through Ambitiously Him Her King Foundation. They vowed to help two Young Parents a month, in Cameroon. 
Ndi Faith will make sure Young Cameroonian Parents are Blessed and receive the baby Essentials they need.
Cameroon Assistant
Gweth Ayissi Marie Bernadette lourdes is a student at the Higher Teacher's training college in Yaoundé (Cameroon ). 
She is a 28 year old mother of an 8 year old daughter . She had her daughter at the age of 20. She was abandoned with the pregnancy . Nonetheless, her parents accepted to take care of her and her pregnancy up to date .  
As such , Bernadette , with the help of Ndi Faith , joined Ambitiously Him/ Her King Foundation , which is an organization that is out to help young parents from 13 to 23 years old . She has happily accepted to help these young parents thanks to this foundation.
Emlah Norah is a Cameroonian born in the northern region of Cameroon and grew up in the northwest region. She is a wife and a mother of one. She is a student at the higher teacher's training college in Yaoundé.
  Norah grew up with a burning desire to help the less privileged because of her own experience. And she has been doing so in an informal way now for several years.
 She got to learn about Ambitiously Him Her King Foundation from her friend Faith and her heart yarn to be a part of the organization. She just want to put a smile on ones face and share out all that is in her.