Our Diary
Partnership with Amazon
We are proud to announce our Partnership with Amazon. They will be helping us with items for our Enrolled Young Parents. 
Volunteer Hours
When you have a University of Alabama Crimson Tide College Student Volunteering while she's in town. Being Positively Productive is the new Fashion
JUMP INTO IT ✨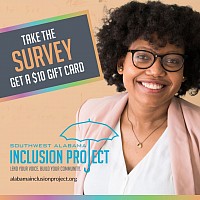 Southwest Alabama Inclusion Project
Dear Friends, 
We are very excited to announce that the LGBTQ+ Community Needs Survey is now ready and waiting to hear from you! The survey was developed by our friends at the Southwest Alabama Inclusion Project of which we are a proud community partner.
This project involves conducting a highly visible, high-turnout data collection effort initially focused on the Southwest Alabama region. Our shared goal is to better understand the lived experiences and demographics of LGBTQ+ people in Southwest Alabama and to identify and prioritize needs including those related to:
● Mental and Physical Health

● Social Service and Government Programming
● Safety, support, and availability of inclusive spaces
 ● Minority Stress in Families, School, and Community Environments 
We encourage you to visit the Alabama Inclusion Project website to take the survey and sign up to be alerted about future projects. If you complete the survey, you will have the option to receive a $10 gift card. You can also help by sharing the survey through your networks.
Quick Access to the survey: https://alabamainclusionproject.org/survey-participants/
Thank you for helping to build a better community for all of us!!!
Best Regards, 

Ambitiously Him Her- King Foundation

Adopt a Family for Christmas 2022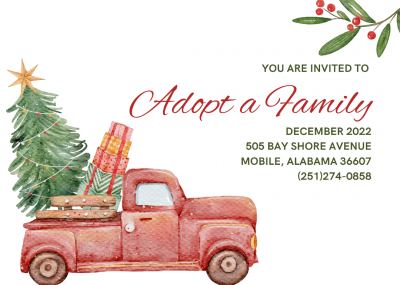 WE ARE APPROACHING THE SEASON
 to be JOLLY☃️🎄
Ambitiously Him Her- King Foundation would like to ask the City of Mobile, Alabama & Surrounding Areas to help BLESS a family this Christmas. 
Calling all Organizations, Businesses, and Community Individuals.
We have over 50 Qualifying Families......that have over 128 kids in Young Parent homes.
We are asking you to ADOPT a FAMILY for Christmas 2022. 
Bless a Young Parent and their Children that's a part of our Program this year, Christmas 2022. 
If you are interested contact us to give you the Family that deserves BLESSINGS🎁
Adopt a family Between 
October 11th- December 2nd
ALL Gifts Due by Friday, December 16th, 2022
Contact information: 
Website: ambitiouslyhimher251@gmail.org 
Phone: (251)274-0858
Community Sponsors 
Community Sponsors for the Bar B Que fundraiser are rolling in. You still have time to become a Sponsor. 
Fundraiser Event
Ambitiously Him & Her King Foundation is a Foundation that the Community needs.

And Friday, July 29th, 5 pm-7 pm we need your help.

Let's be: THE VILLAGE these Young Parents and Children need.

It's a Family Fun Bar B Que Fundraiser
There will be Fun, Food, & Family.

Click the Toolkit for more information on this event & Sponsorship Packet information ℹ️ :

https://docs.google.com/document/u/0/d/1WtrBMucnLBG-ahP7V8pdRclD-ycSCPE_NZGGH6gknWQ/mobilebasic


Ambitiously Him & Her King Foundation would like to see EVERYONE who supports our Mission at Micheal Dow Amphitheatre(Trinty Gardens) Friday, July 29th, 5 pm-7 pm.

So please MARK YOUR CALENDAR, Share this post, and invite your people, local businesses, and organizations to Support this Fundraiser.

Go to The Event page & Click: Going

https://facebook.com/events/s/bbq-for-ambitiously-him-her/2263369797149815/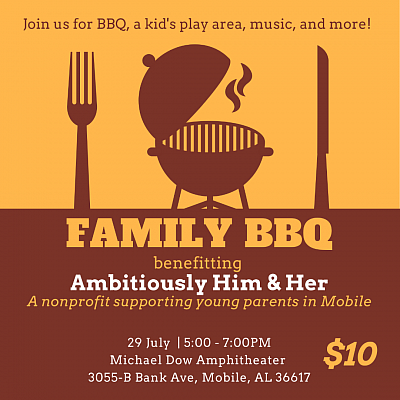 City Council Meet & Greet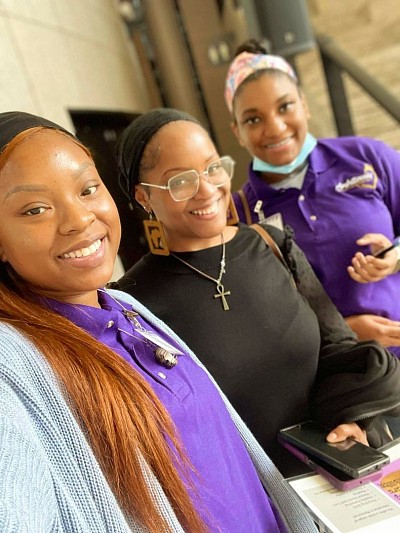 Today Founder/Executive Director took out the time to introduce the Organization to the City Council. Young Parents attended for extra points & to show The City that Ambitiously Him & Her need their Support