Our Diary
Adopt a Family Christmas2021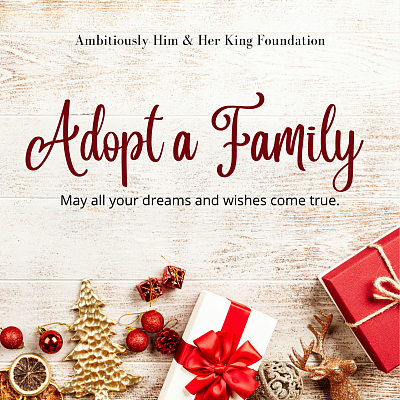 TIS THE SEASON
 to be Jolly ☃️🎄
Ambitiously Him Her- King Foundation would like to ask the City of Mobile, Alabama & Surrounding Areas to help BLESS a family this Christmas. 
Calling all Organizations, Businesses and Community Individuals.
We have over 15 Families......that has over 32 kids to Young Parent homes.
We are asking you to ADOPT a FAMILY for Christmas 2021. 
Bless a Young Parent and their Children that's a part of our Program this year, Christmas 2021. 
If you are interested contact me or any Board Member to give you the Family that deserves BLESSINGS🎁
Adopt a family Between 
November 1st- December 1st
Gifts Due by: Monday December 13th, 2021 
Contact information: 
Email: ambitiouslyhimher251@gmail.com 
Phone: (251)274-0858
Thanksgiving 2021
Ambitiously Him Her- King Foundation will be Blessing 2 Families in The Community as well as ALL 15 of our Young Parents listed in our Program Currently for 
Thanksgiving🍽🥧🦃
We are asking the Community for help during this time. 
Please Feel free to turn in Non-perishable Items at our office Tuesday-Friday 10am-2pm. 
Remember it takes a Village to raise a Child.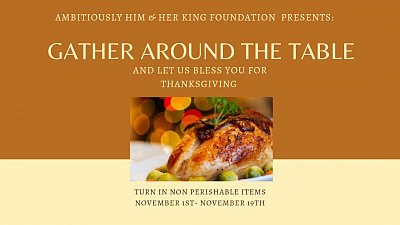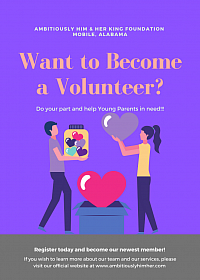 Volunteers 
We are currently looking for 2 Individuals who's willing to Volunteer with Ambitiously Him & Her King Foundation atleast 2 days a week.
We prefer one to be a Young Parent age 18-23. The second age 25 & up. 
Reliable Transportation, Drug Free, Flexible, Dedicated, & Willing to Serve our Community. 
Application and Background must be submitted.
Halloween 2021
PSA PARENTS‼️‼️‼️‼️
What do you have planned this year for Halloween? 
Have NO where to go? 
Don't have Transportation to take your Child/Children to Halloween Events? 
Sign your Child/Children up for a Special Visit from Ambitiously Him Her- King Foundation 🎃👻🕸🕷 
Spooky Wooky Squad Sunday October 31,2021 Starting at 4pm. 
We will come to you with Treats, Prizes & The best Halloween Experience Ever for 2021. 
Sign up now.....
Spots will go fast.....
Text Only (251)525-2897
Book Spooky Wooky Squad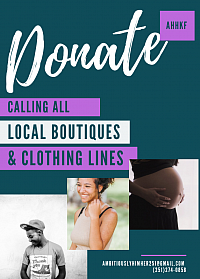 Donate
We are still in need of Clothing for Young Parents(Father's, Mother's & Pregnant Youth)......
Help Bless a Young Parent in need. 📢‼
Contact Us Today Ambitiously Him Her- King Foundation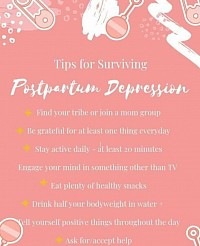 September 2021 Suicide Awareness Month
Suicide Awareness Month 2021
September is Suicide Awareness and Prevention Month. 
Prevention Week is Sunday September 5th - Saturday September 11th 
Do you think of how stressful it is to be a Parent?
What about a single Parent? 
A Single Parent of 2 or more Children?
What about being Young & a Parent? 
Maternal Suicide is real📢‼
Many of us relate the topic with Postpartum Depression. 
Maternal suicide is a leading cause of maternal mortality. Alot of misconceptions, pregnancy and the postpartum period do not protect Mothers against the risk of psychiatric disorders or suicide. 
Do you know how urgent and important it is, that we normalize the discussion of maternal suicide to raise awareness?
Take the time to check on a Mother, ask her if she needs anything or assistance. 
Wait, stop.....JUST GIVE A MOTHER A HUG TODAY(ask for permission & wear your mask).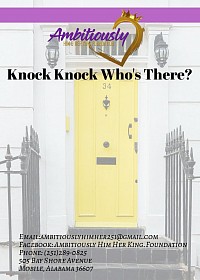 COVID-19 Knock Knock who's There?
National Crisis Pandemic 2020
During our Nation's Crisis #Pandemic2020 
Ambitiously Him Her- King Foundation would like to help a Young Parent or Parents weekly with dry food items & hygiene Products accordingly to the Family needs. 
To keep both parties SAFE during this COVI-19 Epidemic, we will knock on the door and leave the package on the doorstep, front porch, or stoop area. (Staff will deliver with mask & gloves)
We will pick a random Young Parent or Family to donate items too with your help. 
Past the word to Young Parents ages 13-23 or feel free to contact us.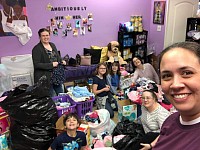 Volunteer Sunday
S/o to The Mother's Prayer group & Girl Scouts who Volunteered today at Ambitiously Him Her- King Foundation
You guys are an Amazing group of women and we are Honored to have your time on International Women's Day💜
"In My Eyes" Chat SEGMENT
will be Personal, Testimonial, Inspirational, Motivational, Educational, and THE TRUTH❕
These Segments may make you: Emotional, Anger, or even Confused.
For years we have been Hush Hush because Sex and Becoming a Young Parent Conversations are Taboo.
Whewwwww Chilllleeee this Segment, will be the beginning of Breaking Generational Curses and Unhealthy Family Cycles.
I will be interviewing individuals who became Parents between the ages of 13-23. Some as early as 12 years of age.
They will be sharing their Personal Experiences on; being Young and Forced into Parent Hood.
Please Stay Tuned for Something New and Definitely needed in our Homes Today.
Follow my page so you wont Miss a SEGMENT.
Every Tuesday at 7pm
Starting This Tuesday February 4th, 2020.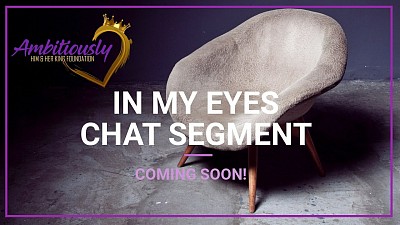 Subscribe to our Channel Today
Subscribe to our YouTube Channel Today.
March for Life Mobile was one AMAZING Experience. God was definitely there.
We Networked with some Beautiful Spirits and Educated ppl on God's Will Ambitiously Him her King.Foundation are doing in The Community💜