Our Diary
Subscribe to our YouTube Channel Today.
March for Life Mobile was one AMAZING Experience. God was definitely there.
We Networked with some Beautiful Spirits and Educated ppl on God's Will Ambitiously Him her King.Foundation are doing in The Community💜
When serving God's Purpose goes Right🎁🎄‼Toy & Gift Giveaway from Ambitiously Him Her- King Foundation & Sponsors.
Happy Holidays from Mr. Eazy's Photography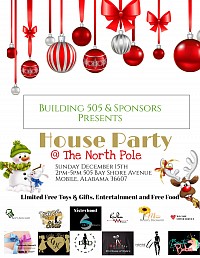 Christmas Community Event
Dear Companies & Community Leaders,
At Ambitiously Him Her-King Foundation, we've served Mobile, Alabama & other small areas state to state, for over one year. This season, we're aiming to raise over $1,500 to fund our Christmas Community Event Presented by: Building 505, Ambitiously Him Her King.Foundation and Sponsors.
We would love to use these funds to purchase Toys & Gifts for ages 0months-12.
On Sunday December 15,2019 we are planning to host the Christmas Community event from 2pm-5pm. We have teamed up with Building 505 to make this Community event possible. At this event, we would give away free toys & gifts, Entertainment by Youth Dance Groups and served a Christmas Dinner Sponsored by Bob's Kitchen.
However, we think our efforts would go even farther with you or your Company Name as one of our official corporate sponsor.
In this role, your business would provide service or donation amount, and in turn we would promote your company as the event's official sponsor and share your services on our like pages with over 2,000 Followers.
Alternatively, your team could provide service or donation amount in your role as our sponsor.
With you or your company by our side at this upcoming event, we're sure to achieve this season's goal and serve the Community and Ambitiously Him and Her-King Foundation as well.
If your company is interested in being one of our official event sponsor, please reach out to us at [251-289-0825] or at [ambitiouslyhimher251@gmail.com]. We can't wait to hear back!
Our 2019 1st Annual Back to School Drive/Workshop was truly, a Success. We experienced serving over 100 Youth with School Supplies. Our Goal this year was: $1000 and we were Blessed to raise $1750. Our Speakers and Amazing Volunteers were Phenomenal. We are looking forward to next year!
Community Action Head Start invited us to be a Vendor to tell Parents about our Services and Programs. It was such an Amazing experience.